Nursing Home Neglect Lawyer Phoenix AZ
Do you have a reason to sue nursing homes?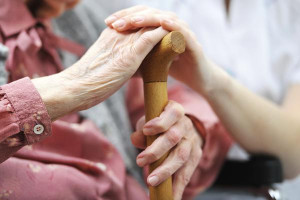 Making the decision to place your parent or loved one in a nursing home is one of the most difficult decisions you may ever have to make. It is usually a last resort after all other options have been researched, tried, and which ultimately failed. Often, there is a tremendous amount of guilt suffered by the decision makers. They may ask themselves questions such as, Have I done everything I could? Are there any other options? Will they be safe in the nursing home? Ultimately, after they make their decisions based on the information provided to them, their loved one may be neglected after all. If this describes your situation, contact a nursing home neglect lawyer in Phoenix AZ from Rispoli Law, PLLC. We may be able to help your family.
The Steps to Take to Protect Your Elderly Loved One
When at some point you realize that the care has not been what you expected and you suspect your loved one is being neglected, it is important to know how to protect your loved one. After you have moved them to a safe place, it will be important to make sure they're compensated for their pain and neglect. Contact Rispoli Law, PLLC to speak with a nursing home neglect lawyer in Phoenix AZ from Rispoli Law, PLLC. Our attorneys experienced in nursing home malpractice and will be happy to discuss your concerns.
Litigation Options
There are many reasons for why lawsuits are filed against nursing homes. Some of these are listed below, highlighting the resident's rights and how the are often violated by nursing homes. Feel free to talk to a nursing home neglect lawyer in Phoenix AZ from Rispoli Law, PLLC to find out more.
Residents in a nursing home have a right to privacy. The mail they receive may not be opened by anyone other than the resident. Residents must have access to the use of a telephone. Your loved one can have any visitors they choose. They are permitted to leave the nursing home at any time for visits with family and friends. (There are certain requirements concerning leaving when dealing with residents with alzheimer's or dementia.)
As a resident, they have the right to participate in religious, social, or community events or activities as long as they are not interfering with any other residents.
Residents that are mentally competent to do so (and their loved ones if they are not) need to keep track of any bank accounts or monies held or accessible by the nursing home. Check the statements to make sure the money is being spent only on the resident.
The nursing home cannot tell you what doctor your loved one should see or what pharmacy they must use to fulfill their prescriptions.
They have the right to see their medical information, and they have the right to refuse treatment or medication.
Protecting your elder is an important responsibility. You have the right to pursue legal action if you feel any of your loved one's rights have been violated or if you feel the nursing home is guilty of neglect. Contact an attorney who specializes in nursing home malpractice to discuss your case. A nursing home neglect lawyer Phoenix AZ families rely on from Rispoli Law, PLLC is available to address your concerns to determine if you have a case against the nursing home.
ALWAYS SAY 'NO' TO ARBITRATION
Should you find it necessary to enroll yourself or a loved one in a nursing home or other long term care facility, it is absolutely critical that you NEVER sign an arbitration agreement. These documents are not a pre-condition for admission, despite what any facility representative tells you, and are often lumped in with the stack of paperwork you are required to sign during the admission process. These types of arbitration agreements are designed to protect the facility from being held fully responsible for any negligence should it occur during the stay at the facility. More and more people are starting to wake up to the rampant abuse of forced arbitration in nursing homes and pressuring the government to end the practice. You can help, and learn more, by visiting Change.org here and signing the pledge to protect seniors' rights!
You Don't Want a Handout, You Want Justice. We Know and We Will Help. Call us at (602) 412-5575.
Our firm is more than willing to talk to you about a potential legal claim for nursing home abuse, or do our best to answer any other questions you have about long term care in general. lf you need an experienced elderly abuse attorney, please do not hesitate to call 602-412-5775 (toll free 866-972-3212) or email.