Nursing Home Attorneys In Phoenix AZ
Justice for Nursing Home Abuse and Neglect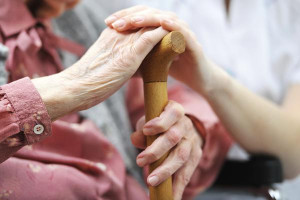 Trying to decide if it is the right time for your elderly loved one to be placed in a home is a truly difficult choice to make. There are so many questions and concerns about nursing home care, and you may be unsure about how your loved one may be treated during their stay. Unfortunately, not every person has the physical ability or medical training to properly take care of their senior family member by themselves. Every nursing home abuse attorney in Phoenix AZ from Rispoli Law, PLLC understands this predicament.
If you recently found out your loved one is suffering from abusive behavior, contact a nursing home abuse attorney at Rispoli Law, PLLC immediately. The abuse must stop. We are here to help you bring justice to your elderly family member. In addition to helping you prove that the abuse occurred, we can help you seek compensation from those responsible. This can make it possible for your loved one to get the medical care and counseling they need in order to recover.
If you are unsure if abuse has happened to your family member, there are some ways to identify whether your loved one is the victim of mistreatment.
Signs of Nursing Home Abuse
The signs and symptoms of nursing home abuse can be physical, mental, emotional and/or financial. Our nursing home abuse attorney in Phoenix AZ from Rispoli Law, PLLC has seen a wide range of indicators. Some signs that your loved one may be enduring harsh treatment or abuse includes the following:
Broken bones, fractures
Bed sores
Frequent infections
Bruises, lacerations, or welts
Dehydration
Emotional outbursts
Mood swings
Withdrawal, reclusiveness
Refusing to speak to anyone
Refusing to eat or take medication prescriptions
Unexplained weight loss
Lack of cleanliness
Poor physical appearance
Changes in mental health
Looking frightened or on alert
Physical, Sexual, and Psychological Abuse
Physical abuse can include hitting, pinching, improper use of restraints, and lack of physical care or grooming. Sexual abuse happens when a caregiver solicits sexual attention that is unwanted or is professionally immoral. Those residents who are cognitively compromised and cannot express their wishes may get taken advantage of in sexual ways. Strictly psychological abuse can be less obvious to identify, but can include the resident being yelled at, criticized, or shamed. Your loved one may start to exhibit changes in their personality or behavior after such harm. Af the first sign of trouble, contact a nursing home abuse attorney in Phoenix AZ from our firm. We offer a free, one-time consultation.
Financial Abuse
A caregiver may take advantage of having access to a resident's personal financial information by stealing from them. The caretaker might commit theft by taking money directly out of a bank account or applying for credit in the resident's name. Your loved one's property may be stolen: rings or other jewelry, special treasures, or other valuable belongings. A nursing home abuse attorney in Phoenix AZ from our firm can help you determine exactly what was stolen and include those items as damages in the claim or lawsuit.
Nursing Home Neglect
Nursing home neglect differs from abuse in that it can be unintentional. Some nursing facilities may not have enough staff to properly attend to all residents on a daily basis. Neglect happens when the resident's hygiene, food, clothing or water is not being carefully managed. You may see your loved one with bed sores, infections of their skin and appearing malnourished or dehydrated. Facilities who treat their residents in this way should be held accountable.
If you believe your cherished family member has seen abuse or neglect while at their nursing home, please call us to schedule your free consult with a caring and skilled nursing home abuse attorney in Phoenix AZ from Rispoli Law, PLLC.
ALWAYS SAY 'NO' TO ARBITRATION
Should you find it necessary to enroll yourself or a loved one in a nursing home or other long term care facility, it is absolutely critical that you NEVER sign an arbitration agreement. These documents are not a pre-condition for admission, despite what any facility representative tells you, and are often lumped in with the stack of paperwork you are required to sign during the admission process. These types of arbitration agreements are designed to protect the facility from being held fully responsible for any negligence should it occur during the stay at the facility. More and more people are starting to wake up to the rampant abuse of forced arbitration in nursing homes and pressuring the government to end the practice. You can help, and learn more, by visiting Change.org here and signing the pledge to protect seniors' rights!
You Don't Want a Handout, You Want Justice. We Know and We Will Help. Call us at (602) 412-5575.
Our firm is more than willing to talk to you about a potential legal claim for nursing home abuse, or do our best to answer any other questions you have about long term care in general. lf you need an experienced elderly abuse attorney, please do not hesitate to call 602-412-5775 (toll free 866-972-3212) or email.