Nursing Home Abuse Attorney Phoenix AZ
A Nursing Home Abuse Attorney Phoenix AZ Trusts Explains the Issues Regarding Elderly Abuse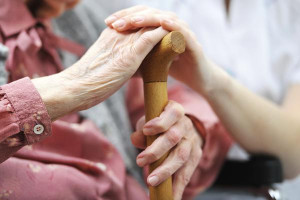 If you or a loved one has been abused or neglected in an Arizona nursing home, now is the time you should consider speaking with an experienced nursing home abuse attorney in Phoenix, AZ. Elderly people deserve the respect of those who are younger than them. For the most part, they are treated with dignity and care. However, some elderly people will be abused and neglected by the very people who they trusted. When this happens, the elderly person may be unaware of what is going on. In this case it will be up to their family and friends to pursue an investigation and possible civil claim. To begin, please call the Phoenix, AZ nursing home abuse attorneys from Rispoli Law, PLLC .

Common Types of Abuse in a Nursing Home

When an elderly person, or a person who is otherwise unable to care for themselves, is placed into a nursing home, it is expected that he or she will be treated with kindness, taken care of, and kept free of harm. Sadly, this does not always occur. Some residents will be abused or neglected. They might feel unnecessary pain, be mentally distressed, and emotionally upset. Unfortunately, most abused residents suffer from alzheimers or dementia which means many don't realize what is going on or are unable to communicate it to their loved ones. This means it is often up to family members to pay careful attention to the physical well being and behaviors of their loved one. 
As a nursing home abuse attorney in Phoenix, AZ can count on, we know of many different forms of abuse; however, the following are the most common:
Physical Abuse: It might be difficult to think about an elderly person getting abused by staff of a nursing home facility, but it does happen. Physical abuse can take many forms; however, it generally results in bodily harm, pain, injuries, and even death. Examples of physical abuse may include pinching, bruises from restraints, and force feeding.  
Mental Abuse: Some residents may be mentally abused by staff of a nursing home. Often, this abuse will go on for several months or years before it is noticed. Although it might not result in physical scars, it can lead to depression, emotional outbursts, social withdrawal, low self esteem, and isolation. 
Neglect: A Phoenix, AZ nursing home abuse attorney from Rispoli Law, PLLC  also helps residents who have been neglected. Although neglect and abuse are not the same, they are similar, and both can result in physical and mental harm. When a staff member fails to implement the standards of care that is expected of them, they can be liable for neglect. Examples include failure to treat bedsores, failure to ensure the resident is fed and hydrated, or failing to give them their medication. 
Sexual Abuse: Sexual abuse can happen to an elderly man or woman; sadly it is more common than many people might realize. When a resident is forced into any sexual act  that is against their will, it may be considered sexual abuse. Not only may a civil claim be pursued, but the perpetrator may also face criminal charges.

Call a Nursing Home Abuse Lawyer in Phoenix, Arizona

If you suspect the abuse of an elderly person in a nursing home, it is important you take action by calling a nursing home abuse attorney in Phoenix, AZ who can help you to understand what your next steps should be. Call Rispoli Law, PLLC   today. 
The heartbreaking reality is that elderly abuse and neglect in nursing homes or care facilities is more prevalent than many people realize. If you believe your loved one was abused, made to feel unsafe, or was neglected in any way, you can turn to a nursing home abuse attorney in Phoenix AZ from Rispoli Law, PLLC for support.
The sad truth is that many families at one point or another will have to make the decision to place their elderly loved one in a care facility. This is because due to the demands of life, many people are unable to take care of their senior relative in their own home. An elderly loved one may require around the clock care depending on how able they are to take care of themselves. They are vulnerable, and if taken advantage of, a nursing home abuse attorney in Phoenix AZ can protect their rights and pursue compensation for any injuries they suffered.

Risk Factors

Residents may be more at risk for abuse if they require constant care, particularly if they are entirely dependent on others. The more care they need from their caretaker, the greater their chances are of being neglected. Talk to the facility's management if you suspect abuse. If your fears are not allayed, you may need to call law enforcement. Even if you are not sure if your loved one is being harmed, contact a nursing home abuse attorney in Phoenix AZ from Rispoli Law, PLLC.
You may be wondering why a caretaker would abuse or neglect an elderly resident. The caregiver may be going through any of the following circumstances:
The caregiver has clinical depression or other mental illness.

The caregiver cannot cope with the stress that accompanies taking care of the elderly resident.

The caregiver is an addict of drugs and/or alcohol.

The caregiver does not feel adequate support from coworkers.

The caregiver lacks proper training or has too many tasks to handle alone.

Common Nursing Home Abuse and Neglect

Upon placing your elder loved one in a care facility, you may naturally expect them to be treated with respect and compassion, while being properly attended to. However, these expectations are not always met. A nursing home abuse attorney Phoenix AZ has handled cases involving a broad range of abuse and neglect, including:
Physical abuse

Sexual abuse

Financial exploitation

Mental abuse

Neglect (in many forms)

Signs of Abuse or Neglect

If you notice any of the following signs or symptoms, there is a chance that abuse or neglect is going on and that you should contact a Phoenix, AZ nursing home abuse attorney.
Bruise marks, especially on the wrist, torso, or ankles

Burn marks

Cuts

Dehydration

Malnutrition

Unexplainable infections or STDs

Bed sores

Rapid weight fluctuations

Medication overdoses

Refusing treatment

Refusal of visitors by staff

Emotional agitations

Unclean living areas

Rocking back and forth

Excessive crying or shouting

Behavior that is "not right"

Withdrawn from family and friends

Uncommunicative

Reluctant to speak whenever staff are nearby

Being fearful of staff

Missing belongings

Missing money

Sudden changes to legal documents
Recognizing any of these signs can be upsetting and cause a number of emotions. The best thing you can do for your loved one and yourself is to talk with a Phoenix, AZ nursing home abuse attorney.

Emotional, Physical and Mental Abuse
Elderly abuse may often go unreported or simply not be taken seriously by family members, supervisors, or other staff. A resident who complains about abuse may be deemed mentally unstable or starting to develop a condition where they are no longer making sense. If your loved one reports that they were hit, yelled at, ignored, did not receive medication or some other sort of mistreatment do not take this lightly. Contact a nursing home abuse attorney in Phoenix AZ from Rispoli Law, PLLC immediately.

Financial Abuse

Physical, mental and emotional abuse are the most known forms of elderly abuse or neglect. What a family member may not anticipate is that their loved one is being taken advantage of financially by a caretaker. A nursing home abuse attorney in Phoenix AZ from Rispoli Law, PLLC can tell you that this is not unusual. This person may have special access to bank account information, and either directly steal money out or steal the resident's identity. Signs of financial abuse can include:
Sudden changes in loved one's financial status.

Unexplainable withdrawals from the bank accounts or charges to credit cards.

Changes in life insurance policy, wills, or power of attorney.

Cash missing from resident's purse or dresser drawers.

ATM withdrawals despite resident being bedridden.

Atypical services or subscriptions that the resident would not have been able to initiate.

Evidence of being given insufficient or too much medication.

Duplicate bills for the same services.

Meet Rispoli Law, PLLC

Rispoli Law, PLLC understands how difficult it is to learn that your loved one has been abused while living in a facility that was supposed to care for them. As a Phoenix AZ nursing home attorney and someone who also has elder family members, this kind of behavior is completely unacceptable. No one deserves to be treated in this way, but especially someone who is old, fragile, and even vulnerable.
When abuse or neglect has occurred, Rispoli Law, PLLC is ready to help. All you need to do to get started is call us and explain what has happened. By choosing our firm, you can count on many things, such as:
Our firm is dedicated to each individual case

We ensure claims are well researched and structured to win

We have handled a broad range of nursing home claims

Challenging situations are nothing new, and we tackle them with skill and diligence

We are ready to provide emotional and mental support
When you rely on a nursing home lawyer like Rispoli Law, PLLC, you can feel peace of mind in knowing that we will do whatever we can to get you justice and maximum compensation. If maliciousness is a factor, we may file a motion for punitive damages. These not only provide you with compensation, but also punish the facility for their actions and hopefully prevent others from being harmed in the future.
You can contact us to receive your first free consultation with a strategic yet empathetic nursing home abuse attorney in Phoenix AZ from Rispoli Law, PLLC. We can help you deal with nursing home neglect and abuse through legal action. Call a nursing home abuse attorney Phoenix AZ families turn to for help from Rispoli Law, PLLC.
Client Review

"I spoke with 4 other attorneys at length before hiring Fred. It was a sensitive case and discretion was extremely important to me, as well as finding someone who listened, respected my concerns and yet had the # of wins that I felt confident he would be able to handle it. From all the research I had done and talking at great length to so many others, when I spoke with Fred, he knew his stuff. He also took as much time as I needed."
Matthew P. Neal

At Rispoli Law, we have litigated numerous nursing home and abuse and neglect cases over a wide rage of issues, including:
Bed sores

Pressure wounds

Pressure sores

Decubitus ulcers

Failure to diagnose or properly treat infections including:

Urinary tract infections

Clostridium difficile

Methicillin-resistant staphylococcus aureus (MR

SA)
Falls, including injuries caused by those falls such as:

Traumatic brain injury

Fractures (hip, shoulder, leg, arm)

Dehydration

Physical, psychological, financial and sexual abuse

Sepsis

Elopement / Wandering
Mismanagement of medication administration

Failure to abide by a physician's orders

Negligent credentialing and hiring of staff

Wrongful death caused by one or more of these issues listed above

 
You Don't Want a Handout, You Want Justice. We Know and We Will Help. Call us at (888) 710-8383.
Our firm is more than willing to talk to you about a potential legal claim for nursing home abuse, or do our best to answer any other questions you have about long term care in general. lf you need an experienced elderly abuse attorney, please do not hesitate to call 602-412-5775 (toll free 866-972-3212) or email.